Your money doesn't work if you don't work your money. Truth!
*CSUN Financial Literacy Students Only*

Between you and me, do you even have a budget? I mean, a real budget?
Listen, it's not your fault if you answered no. You're not alone!
Chances are you were never taught how to budget & manage your money.
You could spend hours and hours, getting stressed out and frustrated, trying to figure this budgeting thing out, or you could learn how to Master Your Budget the easy way with this very course.
Yes, that's right, budgeting & saving money can be easy, and done in less time than it takes to watch an episode of Game of Thrones!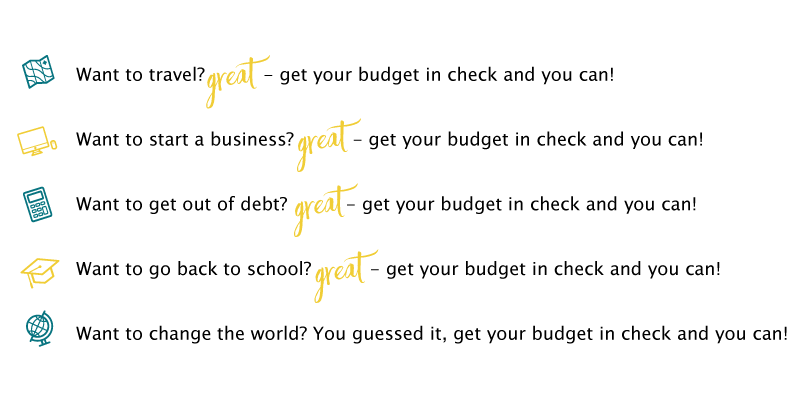 Master Your Budget is a 5 module program that teaches you how to Rocket Launch Your Savings, Pay Down Debt quicker than ever, Kick Start Your Money Goals & Become a Budgeting Pro.


YOU WILL...
Learn how to budget in 20 minutes or less each month - the exact process to master your budget in a few easy steps that you can repeat each month
Create a powerful goal strategy plan that you can achieve with your budget
Unlock savings that are sitting in your bank account right now that you can use for powerful purposes like getting rid of that nasty debt or starting a business or taking your dream vacation
Build your savings game plan that you can use month after month
Finally break free from being stressed out about money with solid real life tips
Devise a solid game plan to pay off your debt and create ways to bring in more cash so you can pay it all off faster
Be a smarty pants with the credit card game because credit cards aren't all bad, you just gotta know a few rules to make them work for you...and create a plan to score things like points, cash back and more

This class is an accumulation of all the tips and tricks I've used over the years to help hundreds of people just like you radically change their lives.
The lessons are easy-to-follow, highly actionable and walk you through step-by-step how to easily master your budget in no time.
Your Instructor
I'm a midwestern girl, a CFP®, have an MBA, started my first business at 19 in college, traveled the world, am a regular on the speaking circuit, a writer that can be found in many online publications, and have been recognized for my achievements in business. My real passion though is creating a money movement, where talking about money is not a taboo topic. I'm not your teacher, however I'm here to teach you how to empower yourself to create the life you have in your head. To go out there and find the answers to your money questions. To take charge of your future.
Course Curriculum
Introduction
Available in days
days after you enroll
Know Your Numbers
Available in days
days after you enroll
How to Budget in 20 Minutes a Month
Available in days
days after you enroll
Disclaimer
The information in this course are resources for educational purposes and are not intended to provide specific advice or recommendations for any individual. It is expertise expressed by Shannah Game, CFP®, MBA based on years of working with personal clients. No information in this course should take the place of consulting with a Certified Financial Planner Professional and tax, legal or other financial advisors.